Whom have we already helped?
Psoriatic arthropathy and leg pain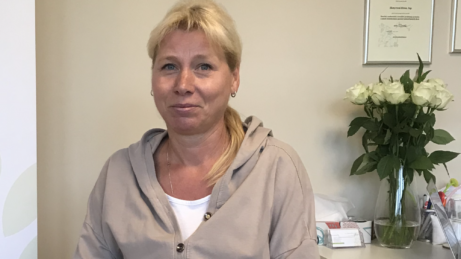 ''One morning I woke up and could not stand on my right leg. Unbearable pain tormented me not only when walking, but also when I was at rest. My leg was swollen so much that I could not put on any shoes. After several months of hopeless wanderings in hospitals, doctors finally diagnosed psoriatic arthropathy and passed the verdict - it is "incurable", they have said. For the rest of my life, corticoids and other chemicals were waiting for me.
When a family friend recommended me Dr. Elena Shmyrova at ESCARE CLINIC, I did not hesitate for a second. After the first visit, I felt that she is the best doctor and I can completely trust her. She treated me with stimulation of acupuncture points and herbs that were prepared directly for me. But especially with her kind and human approach, the word "surrender" is simply not in her vocabulary. Many thanks to Dr.Elena!
Today I walk a lot again, I don't limp at all and I can put on my favorite shoes again! I believed in the treatment from the very beginning, but I didn't even expect such a big progress. I can only strongly recommend this clinic to everyone. This will help you a lot!''
Pompholyx or dyshidrotic eczema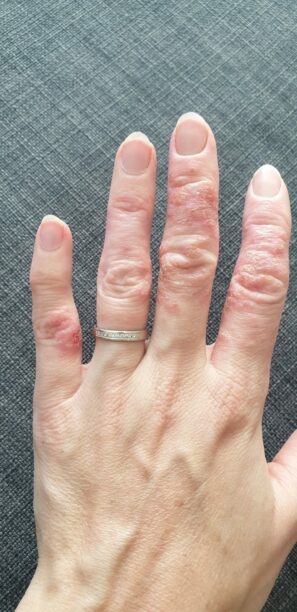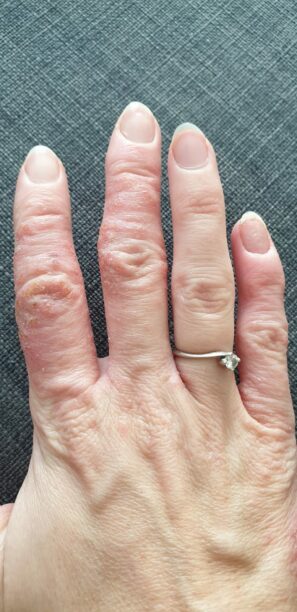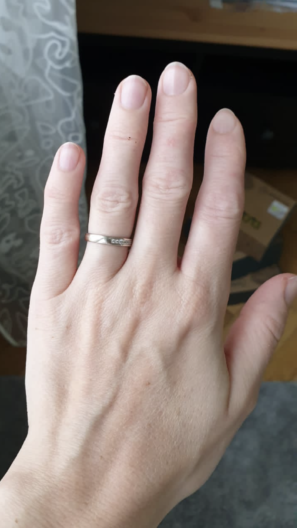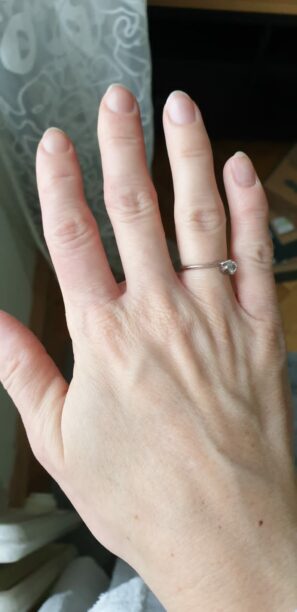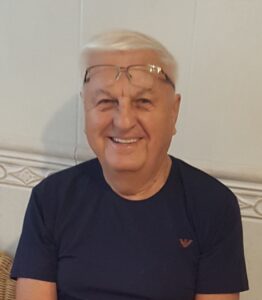 Engineer, Prague, Czech Republic
''Due to intense work, I suffered for twenty years from insomnia, depression, headaches and extreme fatigue. After the procedures at the ESCARE clinic with Elena Shmyrova, I completely stopped taking sleeping pills!
The recovery took place with the help of acupuncture elements, the use of specially prepared herbal mixtures and especially thanks to the great psychological support of the therapist. Today I enjoy life again and play golf regularly!
Two years have passed, and I continue to visit the clinic, because I never want to be in the same state as before I have discovered doctor Elena and her clinic.
And advice for those who are going to improve their health with the help of Chinese medicine: the main thing in treatment is a strong will, perseverance and patience, as well as strict observance of the doctor's instructions.''
My problem was indigestion, in the morning I could not leave the house due to constant diarrhea.
After many years of conservative treatment, my condition only worsened.
However, from the moment of my first visit to ESCARE clinic, miracles began to happen 🙂 Elena Shmyrova charmed me with her positive attitude and I immediately believed that this time everything would definitely improve, which was the case.
After completing the course of treatment, I finally stopped looking for a toilet everywhere! I am immensely grateful to Elena, who was able to change my life for the better! Many thanks!''
Accountant, Prague, Czech Republic
''I suffered from eczema for almost 10 years. The folds in the arms and under the knees were covered with a red itchy crust.
Elena Shmyrova found the cause of eczema and prescribed me herbs prepared individually for me. After just 3 weeks, the eczema has improved significantly!
Now I can wear short sleeves again without shame, and I no longer need to constantly put on creams with hormones!
I want to thank the ESCARE clinic for the incredible help and say that Dr. Shmyrova is an incredible professional in her field! Thank you very much, Elena!''
Neck pains, cramps, psyche and covid vaccination ...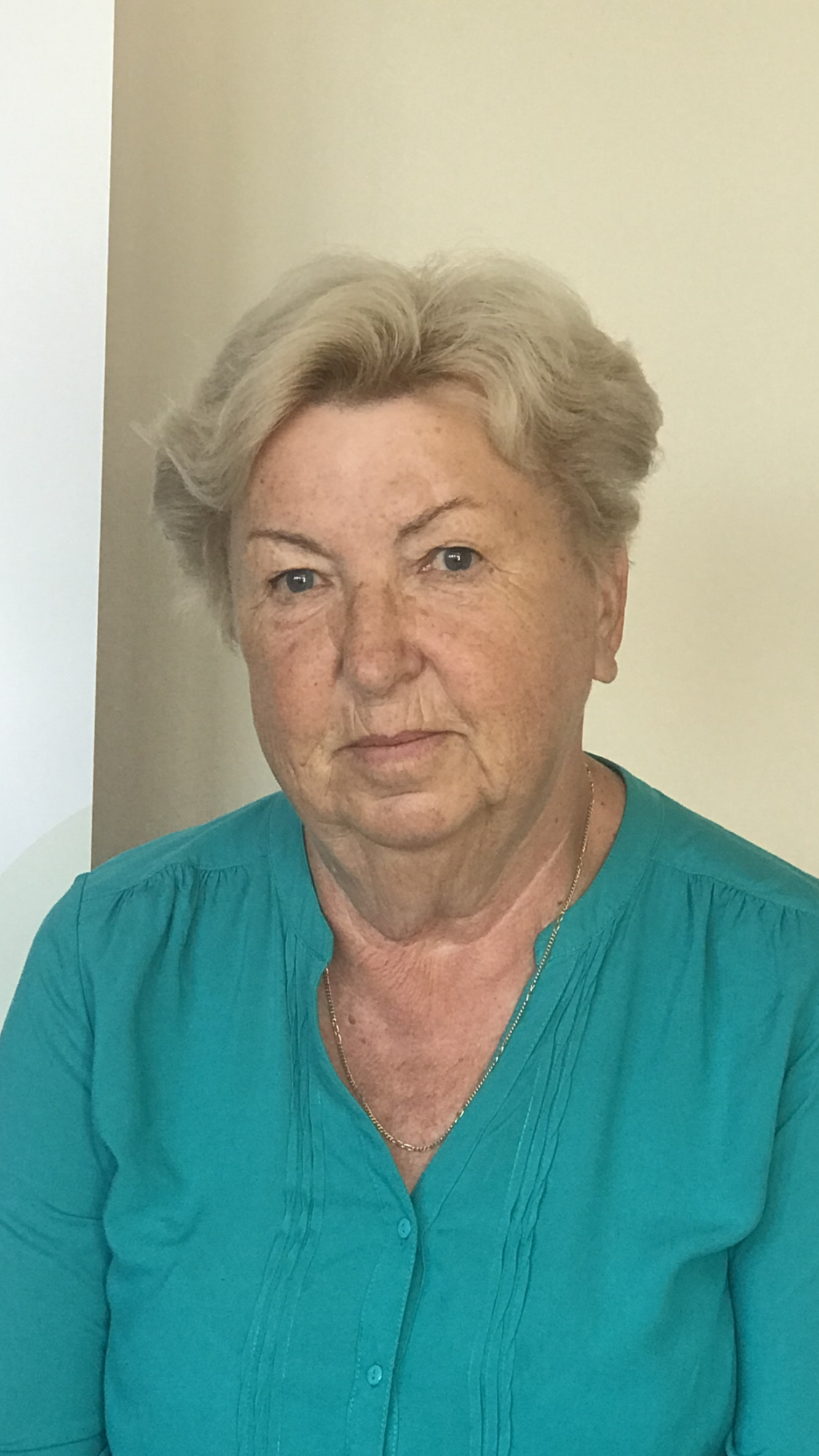 ''I knew a little about Chinese medicine before, but after treatment at the ESCARE clinic, I was convinced that it can do miracles.
The pain in the cervical spine disappeared immediately after the first procedure. My mental problems also disappeared. Now I no longer suffer from frequent cramps and my digestion has improved significantly with the help of herbs.
I got the second dose of the Covid vaccine with absolutely no problems thanks to the "before" and "after" therapies.
Thanks to systematic treatment, I feel much better than my peers. I want to emphasize that the key to successful treatment is the faith in its effectiveness.''
Arthrosis of the knee without surgery
After the load, my knee hurt so much, and I was unable to walk for a long time. The doctors said that an operation is necessary, but I did not wanted it at all.
Elena Shmyrova treated me with stimulation of acupuncture points. It took a lot of time because I went to therapy several times a week, but the treatment was very successful and worth it.
Two years have passed, and the pain has not returned to me. Many thanks to Elena that saved me from an operation!
Many thanks to Dr.Elena for saving me from spinal surgery.
I had a spinal hernia, my back pain got worse, and almost every month I had to go to the hospital for injections.
Elena prescribed me a course of acupuncture and herbal decoctions. Believe it or not, already after the first therapy I left the ESCARE clinic "unbent"!
After 3 months at the appointment in the hospital, the doctor scolded the nurse for allegedly confusing the X-ray, because there was no hernia found!
Now I can again, without fear, lift my one-year-old son in my arms and walk without pain!
Lawyer, Mlada Boleslav, Prague
Many thanks to Dr. Shmyrova for lowering my high cholesterol levels (and not only that)! I really didn't wanted to take chemical drugs for the rest of my life to lower my cholesterol as the Western doctor prescribed me, because I knew that it would not solve my problem.
Elena explained to me the reason for the increase in my cholesterol and prescribed me herbs, which I took twice a day.
In just two months, the level of 8.5 fell to 6.5! After 6 months of treatment, my cholesterol came back to normal - 4.8!
Cholesterol was my main problem, but during the treatment my emotional state and many other ailments also improved.
MANY THANKS to Dr. Elena Shmyrova! That really knows how to do miracles!
Economist, Prague, Czech Republlic